FR plus bas/ES abajo
We can't start this blog without paying tribute to the book that has so obviously inspired its name! Tales of the Jazz Age is a collection of short stories by Francis Scott Fitzgerald published in 1922, between two of his greatest hits: his first novel This Side of Paradise published in 1920 and The Great Gatsby in 1925. He's then at the height of his career.
The book contains 11 short stories written between 1916 and 1922, originally published in various newspapers and magazines. At the time, selling stories was a way for many authors to make a living.
These stories immerse us in the Roaring Twenties, those post-war years when the economy flourished, the page of puritanism had been turned, jazz flourished and become popular. This « Jazz Age, » an expression invented by Fitzgerald, began at the end of the First World War and faded away after the Wall Street crash in 1929. The 11 stories are extremely different from each other, from fantastic or very realistic descriptions of daily lives to comedy or satire, and reveal the contrasts of the era: excesses and decadence, frenzy and nostalgia, humour and melancholy…
Fitzgerald begins the collection with an astonishing first-person presentation of the 11 stories. They are not equals in terms of intrigue or style, but are always interesting and help discovering aspects of that time. The collection contains some racist stereotypes about Blacks, which is not exceptional at the time. The newspapers or magazines that published the stories don't seem to have taken offence either…
« May Day » depicts a party in a popular New York club that goes wrong, we witness the disintegration of the American Dream in » The Lees Of Happiness », we discover the incredible imagination of the author in » The Diamond as Big as the Ritz », a witty story with social satire. The most famous of these short stories is undoubtedly » The Curious Case of Benjamin Button », adapted for cinema by David Fincher with Brad Pitt in the lead role. It tells the story of a person who is born old and dies young. The story and the film are very different but both deserve to be discovered.
In 1931 Fitzgerald described this year in an essay entitled Echoes of the Jazz Age:  « It was an age of miracles, it was an age of art, it was an age of excess, and it was an age of satire »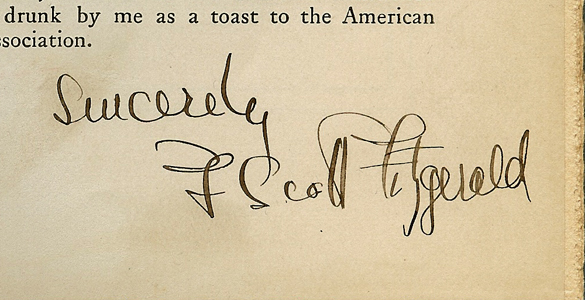 You can read the book online here or listen to the audiobook here. Echoes the Jazz Age is also on the public domain and you can find the text here.
F. Scott Fitzgerald writing at a desk in a garden in Paris, 1920s
…
FR
Nous ne pouvons pas commencer ce blog sans rendre un hommage au livre qui nous a inspiré de manière si évidente le titre de notre association!
Tales of the Jazz Age est un recueil de nouvelles de Francis Scott Fitzgerald publié en 1922, entre deux de ses plus grands succès: son premier roman L'envers du paradis paru en 1920 et Gatsby le magnifique, en 1925. Il est alors en pleine gloire.
Le recueil regroupe 11 nouvelles écrites entre 1916 et 1922, publiées à l'origine dans divers journaux ou magazines. A l'époque, vendre des nouvelles est le moyen pour beaucoup d'auteurs de gagner leur vie.
Ces récits nous plongent en plein cœur des folles années 20, ces années d'après-guerre durant lesquelles l'économie fleurit, la page du puritanisme se tourne, le jazz s'épanouit et se démocratise. Cet « Âge du Jazz », expression inventée par Fitzgerald, commence à la fin de la 1ère guerre mondiale et s'éteindra après la crise de Wall Street en 1929.
Les 11 récits sont extrêmement différents les uns des autres, on passe du fantastique ou de portraits très réalistes de vies quotidiennes à la comédie ou la satire, et nous dévoilent les contrastes de l'époque, excès et décadence, frénésie et nostalgie, humour et mélancolie…
Fitzgerald commence le recueil par une étonnante présentation à la première personne des 11 histoires. Toutes les nouvelles ne se valent pas en terme d'intrigue ou de style, mais sont toujours intéressantes pour découvrir un aspect de l'époque. Le recueil contient quelques stéréotypes racistes sur les Noirs, pas du tout exceptionnels à l'époque. Les quotidiens ou magazines qui ont les ont publiées n'ont pas l'air de s'en être formalisé outre mesure…
« Premier Mai » dépeint une fête dans un club populaire de New York qui tourne mal, on assiste à la désintégration du Rêve Américain dans « La lie du bonheur », on découvre l'incroyable imagination de l'auteur dans « Un diamant gros comme le Ritz », nouvelle pleine d'esprit et de satire sociale. La plus connue de ces nouvelles est sans aucun doute « L'étrange histoire de Benjamin Button », nouvelle adaptée au cinéma par David Fincher avec Brad Pitt dans le rôle principal. Elle raconte l'histoire d'une personne qui naît vieille et qui meurt jeune. La nouvelle et le film sont très différents et méritent tous les deux qu'on les découvre.
En 1931, Fitzgerald reviendra sur ces année dans un essai intitulé Échos de l'âge du jazz: « c'était l'âge des miracles, c'était l'âge de l'art, c'était l'âge de l'excès et c'était l'âge de la satire. »
…
ES
No podemos empezar este blog sin rendir tributo al libro que nos inspiró con tanta claridad su título!
Cuentos de la Era del Jazz es una colección de historias cortas de Francis Scott Fitzgerald publicada en 1922, entre dos de sus grandes éxitos: su primera novela A este lado del paraíso publicada en 1920 y El gran Gatsby, en 1925. Está entonces en plena gloria.
La colección incluye 11 cuentos escritos entre 1916 y 1922, originalmente publicados en varios periódicos y revistas. Vender historias era un medio para muchos escritores de ganarse la vida.
Estas historias nos llevan en el corazón de los locos años 20, los años después de la guerra, durante la cual la economía prospera, el puritanismo se está desvaneciendo, el jazz es floreciente y se democrática. Esta « era del jazz », un término acuñado por Fitzgerald, se inicia al final de WW1 y desvanece después de la crisis de Wall Street en 1929.
Las 11 historias son muy diferentes, van de retratos fantásticos o descripciones realistas de la vida cotidiana a la comedia o sátira, y nos dan a conocer los contrastes de la época, el exceso y la decadencia, la emoción y la nostalgia, el humor y la melancolía …
Fitzgerald comenza la colección con una increíble presentación a la primera persona de las 11 historias. Todas las novelas no son iguales en términos de trama o el estilo, pero siempre son interesantes para descubrir un aspecto de la época. La colección contiene algunos estereotipos racistas sobre los negros, no es excepcional en el momento. No parece que les haya molestado a los periódicos o revistas tampocco …
« Primero de mayo » representa una fiesta en un popular club de Nueva York que sale mal, asistamos a la desintegración del sueño americano en « Los posos de la felicidad« , se descubre la increíble imaginación del autor en » Un diamante tan grande como el Ritz « , una novela ingeniosa con sátira social. La más conocida es, sin duda, » El curioso caso de Benjamin Button « , novela adaptada al cine por David Fincher con Brad Pitt en el papel principal. Narra la historia de una persona que nace viejo y muere joven. La novela y la película son muy diferentes y ambos merecen ser descubiertos.
En 1931, Fitzgerald commenta éstos años en un ensayo titulado Ecos de la era del jazz: era la época de los milagros, del arte, de los excesos en todos los sentidos y en todos los campos de la sociedad »
Enregistrer
Enregistrer
Enregistrer
Enregistrer
Enregistrer
Enregistrer
Enregistrer
Enregistrer
Enregistrer
Enregistrer
Enregistrer
Enregistrer
Enregistrer
Enregistrer
Enregistrer
Enregistrer
Enregistrer
Enregistrer
Enregistrer
Enregistrer
Enregistrer
Enregistrer
Enregistrer
Enregistrer
Enregistrer
Enregistrer
Enregistrer
Enregistrer
Enregistrer
Enregistrer
Enregistrer